In 2009, poet and critic Ron Silliman commemorated the
9/11 anniversary
on his blog yesterday with a gruesome photograph of ground zero with two poems by Jack Spicer superimposed over the carnage. It understandably caused a minor tempest among a few readers who thought we'd had enough fetishism over the attack , and that it was a use of Spicer's work the late poet might not have approved of. I thought it fine and appropriate; Spicer equated God with a Big Radio, and seemed taken with the idea of a poet's inspiration being transmissions from far off places, old voices of dead poets in turn who find their metaphors turned into apt descriptions of current circumstances.
By the time the hidden essence, the secret nuance of what a poet was talking about catches with a culture's experience, their original intent, while interesting, is not relevant as to how their words make our lives comprehensible, even if only on a visceral level. You could argue that the correlative intimations older poems have on the range of contemporary events is coincidental irony, but there is a saturation point when the lines, intended for what's implied , hushed and only vaguely graspable on specific subject matter, become instead the needed at-hand phrases that get the ideas that elude you when tragedies or windfalls of good fortune intervene on the come-and-go.
The poet loses control of what his poet is supposed to mean as history adds associations to the syntactical skin. Spicer, I suspect, might well object to the use, but there is a savage bluntness about poets and their varied attempts to find a greater resonance from the obscenity of violence that resonates loudly with what we're remembering today. What Spicer intended is a moot point, and in this instance, inconsequential. Today was the day everything changed, as they overused phrase went, and that meant everyone had to take a hard look at who they were, who they said they were, and why that mattered in the face of such insane destruction. Spicer, not the least, likely would have considered long and hard; there is the notion that what you've said in a situation you want to clarify gets repeated against seemingly opposing backgrounds. The voices from out of the air, from the radio of memory, are triggered by extraordinary events that transform our regualar which, after all, are not static in any sense. Silliman's collage is an inspired combination of histories; they are no longer mutually exclusive.
__________
My Vocabulary Did this To Me
, an anticipated republication of the poems by the late Jack Spicer, edited by Peter Gizzi and Kevin Killian, and I have to admit that Spicer's writing has me momentarily forgetting my prejudice against poems about poetry and poets and allowing myself to be knocked by the author's third-rail wit. A singular figure who didn't fit in well with the Beats, the New York School, nor the San Francisco Renaissance, Spicer's poems were a set of marginalia at the edges of the principle discussion as to what poetry was and ought to be, and as becomes clear as we read, his counter assertions, his asides, his declarations had more self contained clarity and vision than much of the stuff he looked askance at.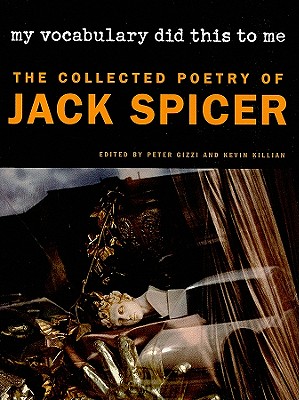 Interrogation of received notions was his on going theme, and 'though the practice of making literary practice the unifying metaphor in a body of work tends to seal off poetry from an readership that could benefit from a skewed viewpoint—unlocking a door only to find another locked door, or a brick wall, ceases to be amusing once one begins to read poets for things other than status—Spicer rather positions the whole profession and the art as an item among a range of other activities individuals take on to make their daily life cohere with a faint purpose they might feel welling inside them. Spicer, in matters of money, sexuality, poetry, religion zeros on the neatly paired arrangements our language system indexes our hairiest ideas with and sniffs a rat when the description opts for the easily deployed adjectives, similes and conclusions that make the hours go faster.
Thing Language
By Jack Spicer

This ocean, humiliating in its disguises
Tougher than anything.
No one listens to poetry. The ocean
Does not mean to be listened to. A drop
Or crash of water. It means
Nothing.
It
Is bread and butter
Pepper and salt. The death
That young men hope for. Aimlessly
It pounds the shore. White and aimless signals. No
One listens to poetry.
There is reservedly antagonistic undercurrent to Spicer's work, the subtle and ironic derision of the language arts that, as he sees them practiced, is locked up in matters of petty matters of status, property, the ownership of ideas, the expansion of respective egos that mistake their basic cleverness for genius. The world, the external and physical realm that one cannot know but only describe with terms that continually need to be resuscitated, is, as we know, something else altogether that hasn't the need for elaborate vocabularies that compare Nature and Reality with everything a poet can get his or her hands on. What this proves, Spicer thinks (it seems to me, in any event) is that we know nothing of the material we try to distill in verse; even our language is parted out from other dialogues.
The Sporting Life
By Jack Spicer
The trouble with comparing a poet with a radio is that radios
don't develop scar-tissue. The tubes burn out, or with a
transistor, which most souls are, the battery or diagram
burns out replacable or not replacable, but not like that
punchdrunk fighter in a bar. The poet
Takes too many messages. The right to the ear that floored him
in New Jersey. The right to say that he stood six rounds with
a champion.
Then they sell beer or go on sporting commissions, or, if the
scar tissue is too heavy, demonstrate in a bar where the
invisible champions might not have hit him. Too many of
them.
The poet is a radio. The poet is a liar. The poet is a
counterpunching radio.
And those messages (God would not damn them) do not even
know they are champions.
Spicer is an interesting poet on several levels, all of them deep and rich with deposits that reward an earnest dig. He is , I think, on a par with Wallace Stevens and William Carlos Williams with the interest in grilling the elaborative infrastructure of how we draw or are drawn to specialized conclusions with the use of metaphor, and it is to his particular brilliance as a lyric poet, comparable to Frank O'Hara (a poet Spicer declared he didn't care for, with O'Hara thinking much the same in kind) that the contradictions, competing desires and unexpected conundrums of investigating one's verbal stream are made comprehensible to the senses, a joy to the ear. No one, really no one wrote as distinctly as the long obscure Spicer did, and editors Gizzi, Killian and publisher Wesleyan Press are to be thanked for restoring a major American voice to our shared canon.
Jack Spicer was an odd and inspired contrarian in place during the San Francisco Renaissance, who conceived poetry as "dictation" of a sort. He had gone so far as to refer to the poet as a "radio", a living device able to intercept transmissions from an other wise invisible world of sharper, bolder, more original combinations of sound, rhythm, form. This is a unique way of insisting, again, that the artist is the "antenna of the race", and there is room enough in his thought to wonder if he considered the poet the one in particular who could touch Plato's Ideal Forms, or if thought he had te ability to peak behind the curtain to espy the furniture of Stevens' Supreme Fiction. Spicer was a troubled man, though, an alcoholic, someone at odds with the poetry community he lived in, but he was a serious, sometimes brilliant poet who could calm his erudition and gives us a poetry of propositions, what ifs, things thornier and much less sweet than the soft candy a few dozen celebrity poets win awards for. Here's a a fine poem, a brief lyric essay considering the likeness of some unlike things.

Book Of Music
by Jack Spicer

Coming at an end, the lovers
Are exhausted like two swimmers. Where
Did it end? There is no telling. No love is
Like an ocean with the dizzy procession of the waves' boundaries
From which two can emerge exhausted, nor long goodbye
Like death.
Coming at an end. Rather, I would say, like a length
Of coiled rope
Which does not disguise in the final twists of its lengths
Its endings.
But, you will say, we loved
And some parts of us loved
And the rest of us will remain
Two persons. Yes,
Poetry ends like a rope.
A cynic's view, perhaps, where the picture that's painted first has the gasping awe of young love, perfect, endless like a circle, the world itself, and later, destroyed, cut at the vital moment of greatest vulnerability, merely a thick string that starts at one end and merely ends, absent glory or beauty, at another. Even after the twists and turns of the thing itself--love, the foiled circle--to restore itself in reactionary spasms, things just end, and rapture and passion are replaced by bitter memory, a bitterness that gives way to a mellowed skepticism, if one is lucky to live long enough to be a witness their own foolish expectations of people, places, things, and especially the foolishness one might have said about poetry in whatever earnest declarations one uttered in classrooms, dorm rooms, cafes where the intelligent and underpaid gathered for a cheap drink and company.